What is This Lojban Thing?
.i semo le lojbo
Module 2 of 7
David Montenegro
Seacoast Linux Users Group
Origins in Loglan
Lojban is descended from Loglan.
Loglan was invented by Dr. James Cooke Brown (a.k.a. JCB) in 1955.
Intended to test Sapir-Whorf hypothesis.
Published in Scientific American article, Loglan, June 1960.
Sapir-Whorf Hypothesis
the structure of a language constrains the thinking of people using that language
strong form:

language limits thought

weak form:

language influences thought
The Loglan Institute
Brown founded the Loglan Institute (a.k.a. TLI).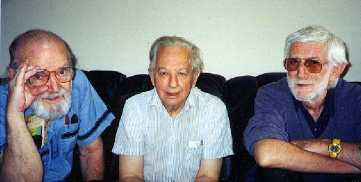 From left: James Cooke Brown, Bob McIvor, and Alex Leith.
The Logical Language Group (a.k.a. LLG)
1986 Washington DC splinter group decided to re-engineer Loglan, organized in informally 1987
Created language called Lojban
Legal battle over trademark to Loglan
Brown's copyright was ruled invalid
LLG incorporated in 1988, became 501(c)(3) in 1989
Lojban language baselined in 1997